The Delightfully Feminine Leanna Dress Plus 4 More Things We Love This Week
Leanna Dress
Layers of raw hemmed ruffles and baby pink gingham? Yes, please! The Leanna Dress in Brigitte by Reformation is everything you need in a modern, ultra girly summer wrap dress. It may be a little plunging in the neckline and short in length to wear to weddings and baby showers, but it's ideal for summer concerts and date nights with your main squeeze. Of course, if you are the type to enjoy turning heads a little, by all means, wear this darling little number to cousin Anna's garden wedding next weekend.
Calming Lavender Heat Pillow
I am of the firm opinion that every woman should own at least one reusable heat pack. Make it this pretty little Calming Lavender Heat Pillow and you'll be able to alleviate your aches and pains while also enjoying the relaxing scent of lavender. After two minutes in the microwave, the dried lavender and barley grains will retain a radiating warmth that soothes muscles and helps you settle into a bit of down time after a long, hard day. You deserve it; participating in the daily grind with cramps is a total feat of strength and tenacity!
God Bless Brunch Tank
The best thing about this God Bless Brunch Tank isn't the witty saying or the adorbs illustration of my favorite brunch meal. It's the fact that it's ultra casual, meaning I can roll right out of bed after a late night, put it on over a sports bra and leggings, don some big shades to hide the bags under my eyes, and meet up with my girl gang for waffles and a Bloody Mary bar. It's a true to size top if you want it to feel fitted, but if you need a little extra room in the tummy for all the mimosas you'll be drinking, order one in the next size up.
Millifiori Jug
For Mother's Day, I signed my mom up for a weekly flower bouquet subscription with a local florist. She'll get a few beautiful stems delivered weekly and I think she'll love it. Of course, that means I'm showing up to Mother's Day brunch empty-handed. Or, I would have had I not had the genius idea to present her with the gorgeous Karma Living Millifiori Jug. The eye-catching floral pitcher will wow everyone at the table, and do a fantastic job representing the ongoing subscription gift;. Mom will have a perfect vessel in which to arrange her weekly flowers and I'll retain my status as favorite daughter for another year.
Pretty sure i'm gorgeous. Hydrating Mask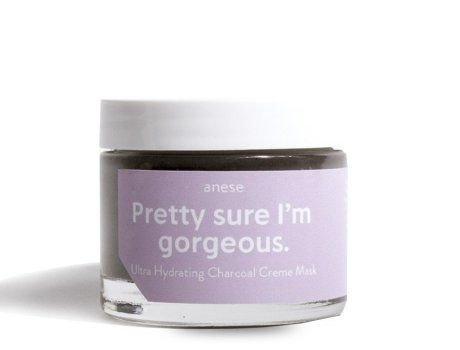 I fully admit that I'm a sucker for beauty products bearing cheeky names. I picked up a jar of Pretty sure i'm gorgeous. Hydrating Mask from anese because I loved its title. Now I'm hooked on its beauty benefits. The activated charcoal-based creme goes on after you wash your face. Rub it all over — avoiding your eyes, of course — then spend ten to fifteen minutes busying yourself with something else (I usually take that time to do nothing productive). After you rinse off the cream, your face will feel smoother and look brighter. I use mine just once a week and still feel confident that it's helping me put my best face forward.