MAC's Nutcracker Sweet Lipstick Kit + 4 More Things We Love
Nutcracker Sweet Lipstick Kit
Not so sure you're feeling the holiday spirit yet? I'm not explicitly suggesting that giving into consumerism will change that, but I am saying that this Nutcracker Sweet Lipstick Set from MAC could have you humming a little Tchaikovsky and adding an extra twirl into your daily steps. The mini lipsticks come in two sets of four: one with nude/berry shades and one with red/fuchsia shades. The kits are currently on sale through late January, giving you more bang for your buck. Keep a set for yourself and give a second to your favorite sister. That ought to make you feel a bit more merry!
Cape Velvet Midi Dress
With a sexy body-skimming drape, a flowing cape top, and a winter-friendly velvet finish, the Cape Velvet Midi Dress from Club L Plus should be a strong contender for your Christmas party needs. Casual office shindig? Dress it down with a pair of chunky moto boots and lots of arm bangles. Fancy shmancy holiday dinner event? Switch to classic heels and sweep up your locks into a romantic chignon. You'll wow 'em with either look and stay comfortable in this party perfect frock.
Indigo Diamanta Throw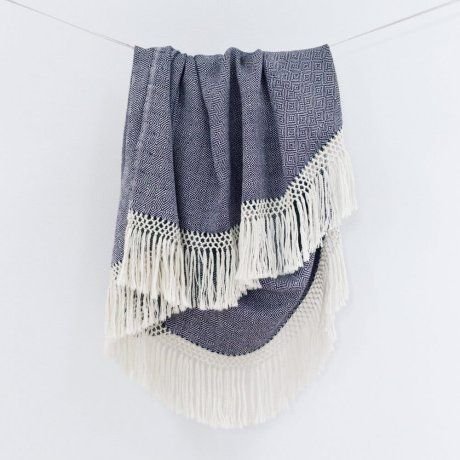 There are two kinds of blanket fringe fiddlers: the smoother-outers and the braiders. I happen to be a smoother-outer, always absent-mindedly running my hands through my favorite Diamanta Throw from The Citizenry while I binge watch as many cheesy Hallmark special holiday tv movies as I can. I won't judge if you're a braider, though, and even go so far as to say that this lovely alpaca throw with its macramé fringe edging is just waiting for you to make your neat little rows of tiny braids as you cuddle up under its warmth on a chilly winter night.
The Original Hobe
Winter doesn't mean snow and slush for everyone, and if you're still basking in the relative warmth of moderate temperatures, skip the Sorels and designate a pair of The Original Hobe Shoes as your go-to winter boot. The french navy shade is neutral enough to pair with all of your favorite casual outfits, from jeans and a cotton flannel button down to a cropped pant and lightweight cardi. With a supple suede upper, the shoes will break in with ease and hug your feet for a completely personalized fit.
Capital Class Trench Coat
Are you too much of a trendsetter to bother with the basic pairing a plaid scarf and a solid color anorak? Good for you! Dial up the season's most loved pattern by slipping into Modcloth's Capital Class Trench in Plaid. If you're feeling extra bold, add a contrasting print to your accessories by the way of a splashy floral scarf or purse. Not convinced? No worries, a chunky knit beanie and snood are also excellent complementary options.