Gamer Girl: Hello Kitty Online Premium Edition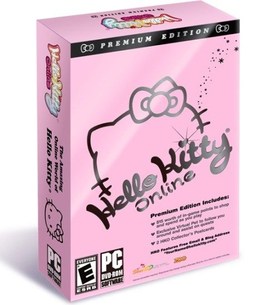 Some people pull out the Dance Dance Revolution floor mats when it's time for some video game destressing therapy. Others are all about BOOM HEADSHOT. But at Outblush?The pinkest site on Earth? We like a little Sanrio action. Or a lot. The schmancy premium edition of
Hello Kitty Online
, which is as
fearsomely
cute as you could imagine, is currently $19 - a better bargain when you consider that there's a $15 game credit in there. The
Official Outblush Cat
has demanded her own copy so that she can play from home while we're all slaving away here for you. A
REAL
game gal's professional opinion? We asked Outblush Operative
Clare F.
, who reviewed the game for us and says....
As a lover of all things video-game related, I would be lying if I said my first reaction when Outblush handed me a game to review wasn't insane, deluded joy.
I would also be lying if I said that immense joy wasn't replaced with homicidal tendencies when I was informed the game was in fact
Hello Kitty Online
>. As a person who really enjoys a good video game, I couldn't imagine what I could possibly like about something so saccharine, goody goody and, well...pink. When I tossed the disc into my laptop, the first thing that struck me was the tutorial. While the game loads, I got to spend my time learning how to get around this little world. It was so through I was afraid that I should've taken some notes. [
Read more...
]The game is obviously marketed as family-friendly, but still enjoyable for people (and cynics) of all ages. It was as bubbly and colorful as anything you'd expect from the Hello Kitty camp, and the social interactions were well thought out and really surprised me. My fears about being unable to navigate Florapolis were unfounded - the controls actually seemed very intuitive, which is not always an easy task for an
MMORPG
. For someone who tends to rate video games through important factors such as explosions, sexy people, zombie to human ratios and available weaponry, I didn't have many complaints about this game. As a person that thinks every video game on the planet is improved by the introduction of a rocket launcher, I was slightly disappointed in some of the monsters presented as challenges in this game. Admittedly, a monster I would deem acceptable would give the average
Hello Kitty Online
player nightmares for life. At the end of the day, this is a really solid game that would make a wonderful gift for Hello Kitty enthusiasts and people of all ages. I may lose any gaming credibility I have by admitting this, but it was actually fun.
Hello Kitty Online
delivers what it promises as an
MMORPG
, while maintaining a very solid G rating, even if it didn't have a rocket launcher.