Everything You Need to Achieve Beauty-Blogger Perfection + 4 More Things We Love This Week
Light It Up: Essential Brush Set
Start the new year off on the right — foot, err, face — by ditching your old and worn makeup brushes and investing in an Essential Brush Set from Smashbox. The investment is small since the set, valued at over a hundred and twenty dollars, is on sale for a measly twenty-seven bucks! You get a foundation brush, a fan brush, a lip brush, a crease brush, and a shader brush. You'll be highlighting like the pros in no time, particularly if you're the type to hunker down on a chilly winter weekend and binge watch YouTube makeup tutorials. (I'm raising a guilty hand!)
Rose Print Skirt
I know you're probably feeling the fog of a holiday hangover, and mentioning Valentine's Day may be met with a narrowing of the eyes, but we're looking at six long weeks of a winter slump before we have a reason to dress fancy and indulge in decadent foods again, so perhaps it's a good idea to begin prep work in an effort to keep our spirits high. New Look's Rose Print Skirt practically croons romance and makes an ideal piece to plan your Valentine's outfit around. Play up the romantic vibe with a silky blouse and strappy heels for date night, or amplify the sexy with a crop top and sleek ankle boots.
Attend Brunch Sweatshirt
Perhaps I'm a little crazy to be thinking so far ahead. If you prefer to conceal those post-holiday pounds under baggy clothing while you spend the rest of winter hibernating as much as you possibly can, let me offer up the I Attend Brunch Every Sunday Sweatshirt from Nylon as a staple cold weather wardrobe piece. On the occasions that you decide to "dress up" by changing from your house yoga pants into a pair of jeans, top them off with this funny sweatshirt and meet a few friends for waffles and mimosas. Eggs, coffee, gossip, and bonding: amen!
Kelita Posie Travel Bag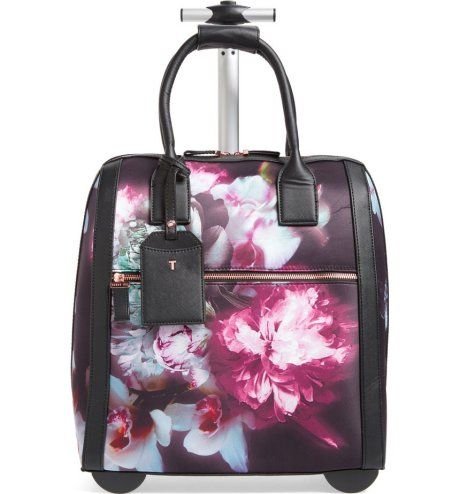 Traveling in 2017? Awesome! Let this Kelita Posie Travel Bag from Ted Baker London help you do so in style. The compact carry-on bag fits easily in overhead compartments or under your plane chair but is still large enough to fit the essentials: your electronics, a change of clothes, a book or two, and some hair and beauty items to help you freshen up before you land. Don't forget to pack a few snacks so you're not stuck hungrily inhaling overpriced, slightly stale Cinnabon rolls that taste like regret!
One Hot Little Dish
Puns are the best, especially when they involve food like the one on this One Hot Little Dish Oval Casserole Set does. Bake up a batch of your best 'tater tot hot dish or green bean casserole and serve it up to family and friends with the included spoon (that's stamped with the phrase, "good to the last bite"). It'll add a little extra dose of fun to your evening meal.