A Reminder to Slay All Day Plus Four More Things We Love This Week
Slay Bath Mat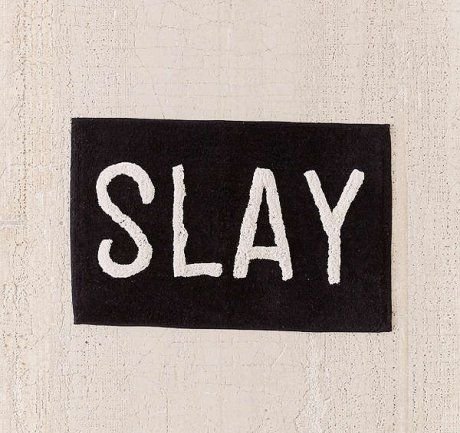 It's easy to look in the mirror and immediately find things about ourselves to criticize. It's much more difficult to look in the mirror and remind ourselves that we are beautiful, amazing creatures who do beautiful, amazing things every day. Fortunately, this Slay Bath Mat is here to remind us to hold our heads up high and stay confident. It's Monday, girl. Slay. You got this.
Single Stem Round Vase
I love the streamlined look of minimalist decor. The simplicity is certainly nicer to look at than my bookshelf full of old snow globes. And, in the case of this Single Stem Round Vase, minimalist items can be inexpensive and easy to style. Place a vase on a bare shelf, a corner of your fireplace mantel, or in the center of your dining table and fill it with a few stems of greenery, a blooming primrose, or even a small branch of pussy willow. That's it! You've got an understated statement piece that took barely any effort on your part.
Wool Loungers
I don't know how I manage to always be the last person to try the newest "it" items, but here I am, finally jumping on the allbirds bandwagon. I know so many people who swear by the comfort of the stylish wool runners, especially for vacation sight-seeing or summer time festival walking. I'm lazy, so I opted for a pair of the Wool Loungers. I can slip them on without having to bend over and the limited edition moss shade is neutral enough to go with just about everything in my wardrobe. You guys, they are so amazing. There was virtually no breaking in period and I can wear them all day long and still feel like I'm walking on air by the time I kick them off at night.
Frill Waist Shorts
Feeling the need to add more feminine pieces to your wardrobe? Topshop's Frill Waist Shorts fit the bill. They're pink, adorned with ruffles, frills, bows, and pleats, and yet, they still manage to not dive off the deep end into absurdly girly. Not that there's anything wrong with being absurdly girl—it's just that a more subtle approach helps keep a piece versatile. You can wear a lace blouse with these shorts to really bring out the feminine vibe, or you can tone things down by pairing them with a denim crop top. Both looks are winners.
T.L.C Sakari Babyfacial
Let's get honest for a minute. I could have picked up any other facial mask on my last trip to Sephora, but I purchased this T.L.C.Sakari Babyfacial from Drunk Elephant because if it's good enough for drunk elephants, it's good enough for me. Apply the mask for about 20 minutes and then wash away. You may notice a bit of grit when you rinse—it's just dead skin cells flaking off to reveal new, smooth-as-a-baby-elephant's-bottom skin underneath. Or smoother than, as the case may be. I think even baby elephants are just as wrinkly as adult elephants. But not you! You'll be fabulously unwrinkled!