Gloss For Your Faec Plus Four More Things We Love This Week
MiLK Makeup Face Gloss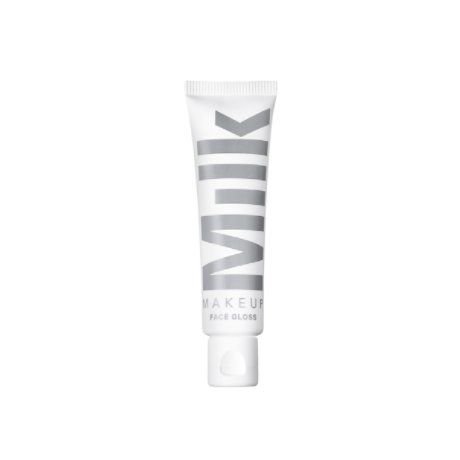 At first, I felt like a tube of MiLK Makeup Face Gloss was a completely unnecessary product. I mean, if you want a shiny face in the summer time, all you have to do is walk outside for thirty seconds. Bam. Sweaty, shining cheekbones. But then I tried it out and realized that there's a big difference between a soft, dewy-skinned glow and a makeup-melting face mess. I'd much rather invest $20 to achieve the former. In fact, a tiny bit goes a long way, and the product has even replaced my trusty highlighter stick. Use your fingertips to brush on a little after you've set your makeup; dab it on your cheeks, your eyelids, and your lips for a subtle I-drink-eight-glasses-of-water-a-day glow.
Lace Fit & Flare Dress
You can't tell from the photo, but the Lace Fit & Flare Dress from True Decadence is truly the most gorgeous shade of pale purple. It's soft and sweet ... but not too Easter Sunday-ish. Wear it with leather accessories—a delicate braided bracelet with a charm on it, sable colored sandals, a buttery wrist wallet—and turn heads where ever you go.
Antique Brass Alessa Chandelier
My home decor wish list has recently reached about ten miles long thanks to Joanna Gaines and her perfect everything. Before Fixer Upper, I was content with clearance finds in the home section at Target (which, let's be honest, I still buy regularly) but now I keep my eyes peeled for items that will transform my space into something special. This World Market Antique Brass Alessa Chandelier manages to both keep me in budget and add a much needed update to my dining room lighting situation. It hangs above a hand-me-down Duncan Phyfe table with coffee rings on it, but total transformation is a process, right?
Basics Hydrating Oil
Not yet ready to invest in skin care potions that "prevents aging" or target wrinkles? Me either. My skin is still pretty youthful and I like that the Hydrating Oil from the True Botanicals Basics line works on moisturizing without the extra added ingredients that cater to more mature skin. I want something simple that works on keeping my face feeling hydrated. Period. A few drops a day does just that.
JUICY Lancey Sneaker
Sometimes we want our athletic sneakers to look like athletic sneakers and sometimes we want our athletic sneakers to look like sparkly cotton candy-colored shoe clouds. Perhaps that's just me? Either way, JUICY gets my style. Their Lancey Sneaker in pink is as girly as they come and I can't wait for the mail carrier to bring me my pair. They'll sweeten up a basic jeans and tee combo, or add an extra funky, feminine touch to a floral skater skirt and crop top. Not sure you can handle all that pink? The Lancey comes in black, too.